David Kim – From Prodigy to Performer
Sunday, April 28 @ 2:00 pm

-

4:00 pm
Join us on a journey with Philadelphia Orchestra Concertmaster David Kim as he describes his experiences and struggles to reach the pinnacle of his career. Interspersed with performances of some of David's favorite works, this is a humorous, sometimes jarring, and often poignant story not to be missed.  Learn more about David Kim.
$100 General Admission Ticket ($50 tax-deductible): Ticket price includes one general admission ticket to the concert, your first glass of wine at the Welcome Reception, and hors d'oeuvres.  Cash bar also available on site.
SELL-OUT EXPECTED!
EVENT SCHEDULE   
Sunday, April 28th 2019
2:00pm:  Receptions
2:00pm – 2:45pm: Welcome Reception for General Admission Patrons
2:00pm – 2:30pm: Private Reception with David Kim & priority seating for Sponsors
2:45pm: Concert Doors open for seating. Concert will begin promptly at 3:00pm. Please note: Due to the intimate setting of the concert, latecomers will not be seated.
3:00pm – 4:00pm: Concert
DRESS                                                                                                                                Dressy casual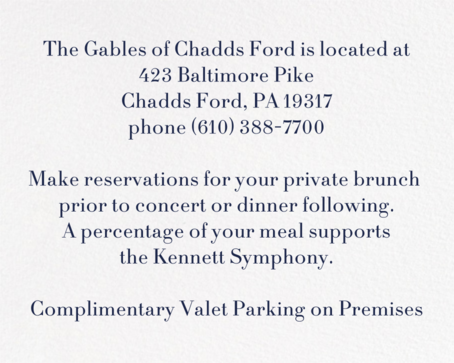 $10,000 Diamond Sponsor ($9,800 tax-deductible): Priority seating for four, private reception with David Kim, signed CD, and donor-sensitive recognition
$5,000 Platinum Sponsor ($4,800 tax-deductible): Priority seating for four, private reception with David Kim, signed CD, and donor-sensitive recognition
$2,500 Gold Sponsor/Concertmaster Sponsor ($2,400 tax-deductible): Priority seating for two, private reception with David Kim, signed CD, and donor-sensitive recognition
$1,500 Toast-Master Sponsor ($1,400 tax-deductible): Priority seating for two, private reception with David Kim, signed CD, and donor-sensitive recognition
$1,000 Silver Sponsor ($900 tax-deductible): Priority seating for two, private reception with David Kim, signed CD, and donor-sensitive recognition
Related Events